Many of us enjoy creating lists for every important task to complete and why shouldn't we? They are simple to make and soothing to cross. They keep us more organised, focused and makes us feel grounded but have you ever thought of making a list of things to quit?
In an overly controlled society with objectives to fulfil, life can get out of hand sometimes and it is fine you know. Feeling lost is part of the process to rediscover and reinvent yourself. It allows you to question things and people that you may have never thought of and what do people do when they feel confused and want to get back on the right track? They plan and make a list of their goals.
Today I am going to talk about a different kind of list. Let's name this a "Detox List" where you write down things to get rid of. Anything that doesn't bring you joy and doesn't fill with a purpose in your life needs to be taken out of your life. Simple right?
This idea is actually very common and has been the basis of many principles such as Hygge, Ikegai, etc.. and if you are a fan of Marie Kondo's "The Life-Changing Magic of Tidying Up: The Japanese Art of Decluttering and Organizing" and "Spark Joy" you would definitely know what I am talking about. The only difference is that this is applied to people as well and it is an actual materialist list that you can come back to and tick off.
The idea first came to me after reading Cordelia's blog, specifically  "Why Losing Nearly Everything Was the Best Thing That Ever Happened to Me". Like Cordelia, I have also hit the rock bottom, or that's what my mind believes it to be. It is through this existential crisis that I was able to question my life and the people around me. I realised that if I have to rise from the ashes again like a phoenix, I have to get stronger both mentally and physically and the first step to achieve this is to cut anything that I am not happy with, out of my life. Unfortunately, that doesn't mean bills and general duties, you get me right? Haha. But we can create lists which can make responsibilities feel less daunting.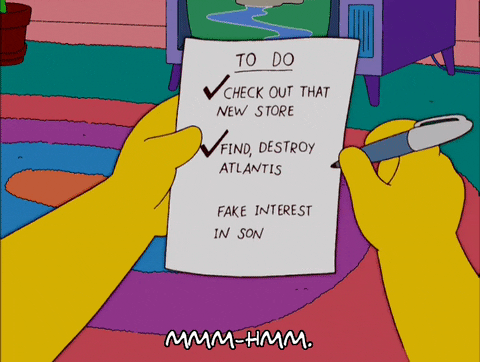 So here is a list of what I have been quitting so far, or at least trying to quit:
Toxic People –
That annoying aunty who won't stop asking you triggering questions? That selfish friend who only talks about her issue but rebuts yours? That family friend who think it is okay to chat shit about you because they think of you as own their child? That relative that turns everything into a competition? That male friend who will try to make you feel guilty for not liking them back? DROP THEM ALL ☑
Asian Rat Race 
Get a first-class degree by 21, masters by 22 PhD or work then marriage by 25 and kids by 30. Hell no. ☑
Forgetting About The Hot Tea I Just Made
Guys I am still trying to solve this issue
Hit The Snooze Button
No more extra 5 minutes of sleep. I either sleep timely or don't sleep at all ☑
Starve Myself When Stressed
Don't skip meals before important events ☑
Stressing Over Things I Have No Control Of
Anxiety sucks
Impostor Syndrome
Think you are not good enough for your parents, boss, professor, friends? Well, it is time to pause for a bit, recognise and count both your blessings and accomplishments. I am getting there.
Overly And Unnecessarily Explaining and Justifying Myself
If I say no once, depending on who you are, you may ask again for an explanation, but do not ask me a third time, please. Thanks. ☑
Letting A Single Incident Or Change Put Me Down 
Again anxiety sucks.
Taking Therapy and Health For Granted
A huge mistake of mine. Go seek professional help. ☑
Punishment By Depriving Myself Of Anything Entertaining
Ha, this is my subtle masochist nature being revealed. TMI, tbh.
As you can see the list is quite dark haha. It is mostly a psychological detox. I will probably have more to add in the near future and I am thinking of making a separate list on my menu list to make it easier to track. Let's see.