Hello there,
Today I am going list you some of the least spoken Bengali food (at least to me) that I have tasted so far which are overlooked or not presented at all in South Asian restaurants in the U.K. I am going to keep it short and more visual instead. I didn't use my pictures in this post as it is just a generic list. If I do ever post a recipe or any food from this article I will update the photo (All pictures are credited to their respective owners below) So let's start!
✵ Koleeja (কলিজা )
(Picture courtesy of Bangla Foodie)
Koleeja is liver meat. It is a staple dish in our house but not so common among most of the Bengali houses I have been to. Usually, you would make Koleeja Bhuna which means frying the meat with spices at high temperature and serving it as a medium hot dry curry. Koleeja Bhuna can be served with plain rice or Khichudi. Sometimes we make Koleeja Bhorta which I have explained here.
✵ Mogoch Bhuna (মগজ ভুনা)
Mogoch means brain. In this case, you would eat lamb or beef's brain. Laden with fat, this probably a sinfully delicious dish (for some, not for me)  which is served with paratha or it can be served as side dish with rice. I personally, don't remember enjoying it as the smell was pretty strong. I wouldn't mind trying it again as I originally had it several years ago. I don't know about you but the thought of eating brain makes me puke a little bit.
✵ Shahi Tukra (শাহী টুকরা)
Shahi Tukra is the Bengali name for bread pudding. Like all shahi dishes, this one has ghee, dry fruits, and thick evaporated milk. My family doesn't eat sweets that much unless there is a dawat or someone is craving for it.
✵ Balushahi (বালুশাই)
Another uncommon dessert is Balushahi. There is no English name for this dish and there is a tiny difference between the Bangladeshi Balushahi and the Indian one, the former is garnished with mawa and the latter is garnished with pistachio.
✵ Goalondo Murgi (গোয়ালন্দ মুরগি)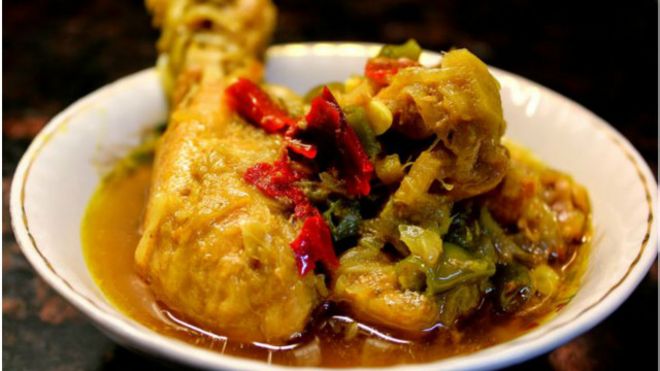 Okay, this is the most intriguing and mysterious dish as there is no exact, 100% correct recipe for it as it is a very ancient one. Goalondo Murghi or Goalondo Chicken is a very rustic Bangladeshi dish and has a pretty nice story behind it. It was originally made by the boatmen of "Goalondo-Narayanganj" steamers in pre-partition India (Bangladesh, India and Pakistan). The most accurate English name for this dish is (Goalondo Chicken) Steamer Fowl Curry. Since it was cooked on the boat, the ingredients are fresh and very simple yet so effectively tasty relying only on mustard oil as the cooking medium. The curry has a mild pungent smell and it is quite possible the boatmen used what we call is dried fish (shutki maach/শুটকি মাছ) to add a little weight to the curry and the best closest option is to use shrimp paste. The one I tasted was a recipe loosely adapted from Pritha Sen's cookbook but my mum admitted that she was not satisfied by how it turned out to be so she promised to do more research and make it again for me.
✵ Khashir Glassy (খাসির গ্লাসি)
Khashir Glassy or Mutton Glassy is a traditional Old Dhaka (Puran Dhaka) curry where the meat is covered by a thick layer of oil which looks like glass (hence, glassy). It is a very rich dish with a thicker consistency than a soup but closer to Nihari. It is served with any type of bread you like. We have it with the Italian focaccia or just naan or paratha.
And this my folks, concludes today's food list. I am going to Bangladesh soon for a wedding so I will update you later on what else is there to eat. Until then stay safe and healthy.
Bye Bye!
XoXo